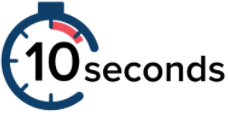 That's how long you have to capture and maintain a user's attention on your website! So how can you make sure that you're able to keep a user's attention? One way is to follow the Design Thinking process. As a St Louis Website designer, I like to implement these strategies into all of the websites that I create.
Design Thinking is a design methodology that provides a solution-based approach to solving problems. By understanding needs and adopting a hands-on approach to prototyping / testing, design thinking creates a memorable experience on your website.
What are the five steps of Design Thinking?

Gain an empathic understanding of the problem you are trying to solve. This involves consulting experts to find out more about the area of concern through observing, engaging, and empathizing with people to understand their experiences and motivations. Additionally, you should consider immersing yourself in the physical environment in order to gain a deeper, personal understanding of the issues involved. Empathy is crucial to a human-centered design process such as Design Thinking. Empathy also allows design thinkers to set aside their own assumptions in order to gain better insight into the world of St Louis website design.
State your users' needs and problems. Analyze the Empathize stage information. Use these observations to define the core problems. The definitions that you gather during this stage are called problem statements. Before proceeding to ideation, consider creating personas to keep your efforts human-centered. For example, as opposed to saying "We need to improve the literacy rate of children in Florida by 5% in 2022", consider "Children in Florida need to improve their reading skills in order set the stage for successful adulthood".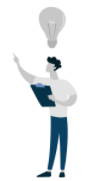 Since you've grown to understand your users and their needs during the Empathize stage and you've analyzed and harmonized your observations during the Define stage, you're now ready to ideate. It's time to 'think outside of the box' to create solutions for the problem statement you've defined in Step 2. There are hundreds of ideation techniques including brainstorming, brainwriting, SCAMPER, Worst Possible Idea, and more. It's important to gather as many ideas or solutions as possible towards the beginning of the Ideation phase. This way, we can test ideas via other ideation techniques as we continue along the St Louis website design journey.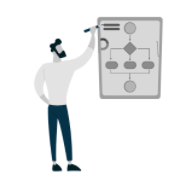 Prototypes are inexpensive, scaled down versions of the product. There are different tools that can be used to create prototypes, including Adobe XD, InVision, Figma, Sketch, and Framer. You can also use plain HTML / CSS / JavaScript to create clickable prototypes on the web. As solutions are implemented within these prototypes, they are investigated and are either accepted, improved, or rejected based on user experiences. This way, designers will have a better understanding of the constraints related to the product, and will have a clear vision of how users will behave, think, and feel when interacting with the final product.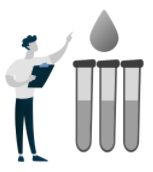 Testing is used to redefine existing problems or inform the understanding of the users, conditions of use, and behavior. Even during the testing phase, alterations and refinements can still be made in order to eliminate unwanted solutions and create as good of an understanding about the product and its users as possible. 
Design Thinking is not a linear process. For example, you might gain new insights into product interactions that cause you to empathize with users during the testing stage. This could lead to another brainstorming session (Ideate) and then you might create new prototypes (Prototype). So while Design Thinking is a continuous process, it's what makes Gateway Web Design best-in-class for St Louis website design and UX design services.
Contact me to get the website design process started for your project.